Monthly Specials
Surrender to the season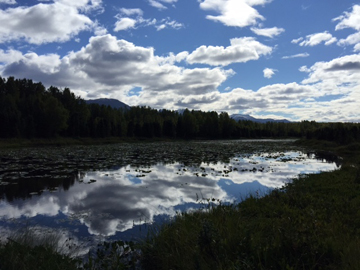 NEW:
Reiki Touch • 1 hour 85$
A blend of all the modalities I have learned over the past 19 years carefully crafted allowing you to reach your highest potential.
Beautiful skin is possible for everyone. Dry, broken out, dull? Complimentary consultations available.
Testimonials
I have dealt with sensitive skin my entire life. I have seen dermatologists, and aestheticians. The money I've spent on products over the years is phenomenal only to have mediocre results. I can confidently say Tricia has transformed my skin. Before I found Tricia my skin always had a rough undertone with continual flare ups of pimples and blemishes. Within the first visit my skin was softer, the rough bumps smoothed and disappeared. Not only do the facials make my skin look amazing, my skin has tightened. There are no more blemishes and my pores are smaller. Tricia's facials are a full body treatment with massage and music, I walk away feeling completely rejuvenated. Tricia provides a comfortable atmosphere with the utmost professionalism. She caters her facials to my skin and pairs the products accordingly. Her knowledge of the products she sells is incomparable.  Tricia also takes care of all my waxing needs and tints my eye lashes. She is the most gentle waxer I have ever been to. She always works with my schedule and I would recommend her to anyone who wants to transform their skin from deep within.
Tricia has been my esthetician for many years. While I have tried all the big name spas, I can tell you that the facials from Tricia are top-notch and I will continue to see her for all my skin care needs. Not only that, but she's professional, carries great products, and the experience is second to none.
I first stumbled upon Tricia on a hunt for a hard to find product. After talking with her over the course of the sale, I decided to book a facial. One of my greatest decisions to date. Seriously.
The products she uses are top shelf. All organic Hungarian, and all amazing. My skin literally glows when I'm done. At first I thought it was her "special spa lighting," but nope, the glow follows me home and lasts all day.
Tricia's talent is also top notch. In fact, I rarely pick a facial package anymore. She just asks me a few questions about my skin and I let her take it from there. This is not my general practice by the way. I normally have "all of my ducks lined up," but feel so confident in her skills that I let her work her magic.
Lastly, as a wife and mother who works outside of the home and serves on my village board, I am extremely protective of my time. Time with Tricia is time well spent. I leave feeling relaxed, pampered and refreshed, every time. She consistently delivers good service and makes me feel like I am her only priority.
Bottom line: Tricia is the best and I am so happy that I found her.
I've been going to Tricia for facials over 10 years. She is amazing!
Tricia and Seva Spa are a treasure here in Anchorage. I regularly book facials so I can get some T.L.C….. Tricia Love and Care. She is so thoughtful and perceptive she knows just what I (and my skin) need every time. She provides a wonderful massage for head neck and shoulders and I come out with glowing skin, perfection! As much a part of my stress-management kit as yoga, Tricia offers a sanctuary of peace and relaxation. I have been to top-rated spas in other parts of the country and she is by far the best I have encountered. She uses all organic products from the Eminence line. Unlike most natural beauty products they work really well and they smell great. You are in for a real treat when you go see Tricia.
Gift Cards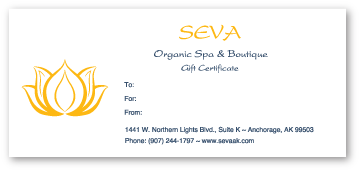 Looking for the perfect gift for someone you love? A SEVA Organic Spa & Boutique gift card is the answer: a wonderful, rejuvenating experience which will demonstrate your care! Contact me to purchase yours today.