What's New
I am settling into my new space and loving it! I had been looking for a great space for over 5 years. It certainly is true, "good things come to those who wait." I'm so glad I was patient and waited for everything to come together just as it was meant to be.
| COMMUNITY REIKI |
Available every Thursday from 9:30-6.
20 minutes for $20 : 40 minutes for $35. This is my way of giving back to my community, sharing positive energy.
| CLASSICAL PILATES |
Private & semi private sessions available. Beginning & intermediate mat.
1hour $20 by appointment
Gift Cards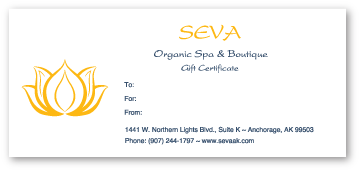 Looking for the perfect gift for someone you love? A SEVA Organic Spa & Boutique gift card is the answer: a wonderful, rejuvenating experience which will demonstrate your care! Contact me to purchase yours today.